ForTheValley | ForTheWorld
Birth- 5th Grade
9:15am | 11:00am
Sunday, March 1 • 12:30-2 p.m. • Gathering Place • Free
What are the most important things you need to know about money and generosity in different stages of your life? Financial planner, Jeff Jenness will be presenting timely information on how to avoid consumer debt, tithe on a tight budget, save for retirement and how to leave a legacy. Lunch will be served, childcare available and reservations are requested.
For more information, contact Deb Thomas at
[email protected]
937-836-6500, ext.114.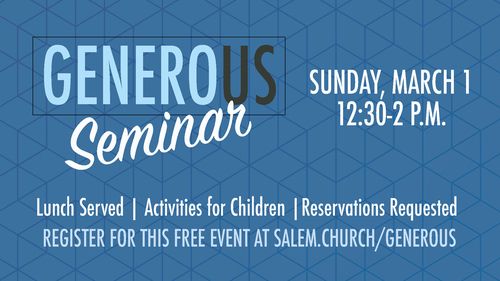 Financial Peace University
Financial Peace University will help you take control of your money, plan for your future, and transform your life.
We are offering 2 classes, each 9 weeks long. Childcare available for Wednesday session only.
Tuesdays, beginning 2/18/20, 6:30-8:30 p.m., Room 219, NO childcare available
Wednesdays, beginning 2/26/20, 6:30-8:00 p.m., Room 219, childcare available
$100 Registration fee required. Scholarships available.
For more information contact
[email protected]
Changed lives! This is what we are about at Salem Church. We are a community of broken people who've been made whole by Jesus, doing our best to honor Him and change the world. We gather together to turn our hearts and minds toward God and are sent out into our community, workplaces, homes and schools to live out the love of Jesus in tangible and practical ways.
We are passionate about serving the Miami Valley and bringing the light of Jesus to our city.
Salem Church partners with many local organizations to share the good news and love on our community .

Get involved today! There is no better way to love our city than to serve those who are a part of it.
Baptism is a way of declaring to the world "I have decided to follow Jesus." After a person has asked Jesus to lead them, their next step is baptism. Jesus was baptized and instructs us to do the same. It is the public celebration of the individuals private decision to follow Jesus.

Spiritually speaking, when you go in the water it symbolizes the "old" you and when you come out of the water it represents the "new life" you have in Jesus. It doesn't mean you are perfect now, it is simply a physical expression of God's power in your life.
We'd love to hear from you. Fill out the form below to get started.