"People need love & acceptance a lot more than they need advice."
"Love Does is a lifestyle ... not an event"
"The world will know us by our love"
With the current school situation so different this year, the SalemKids ministry team prayed about how our church could help families in the community. The answer became the Student Center at Salem Church. This outreach isoffered 2 days a week and provides children, K-6th grade, a safe place to come and complete their daily lessons. Thank you Salem Church for how you reach beyond our walls to love our community.
Volunteers are needed Tuesdays & Thursdays from 9 a.m. - 3:30 p.m.
SCHOOL SYSTEM THANK YOU'S
At the end of September, each one of the 820 employees in the Northmont School system will receive a special treat from Nothing Bundt Cakes. We are also providing an opportunity for everyone to write a personal thank you note to each employee. Supporting our local schools has always been a priority at Salem, but with the extra challenges this year of remote learning, you wanted to be sure each educator and employee feels supported and appreciated!
Pick up thank you cards or use your own and write a special note to those working in local schools
BACK-TO-SCHOOL PRAYER WALK
On Sunday, August 30th school teachers, administrators and employees were invited to Salem Church for a special prayer and blessing. Following the service many gathered outside of the Salem building to pray and kick off the Back to School Prayer Walk week. Over the next 6 days, teams met at 10 different prayer times and at 10 different schools to walk and pray for children, families and those working in the school system. At Northwood Elementary as you showed up to pray, 15 staff members from that school joined in to walk their school and pray for this school year.
Salem Church had the opportunity to partner with a church plant in West Chester, Ohio, that was moving to a bigger building. On Wednesday, September 2, a team from Salem planted 100 plants and spread mulch for the Anthem House Church, just in time for their grand opening.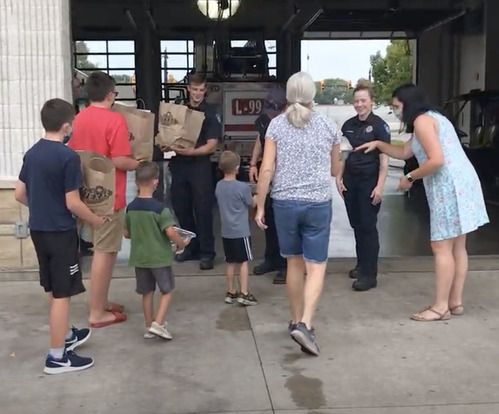 MEALS FOR LOCAL FIRE STATIONS
We are so grateful for our public servants and all that they sacrifice to keep our community safe.
During the first week of September, Salem Church you organized to pick up and deliver meals from Texas Roadhouse to 105 firefighters, police officers and dispatchers. About 45 volunteers from kids to adults, delivered meals over 3 days of serving to be sure each shift would receive this treat. THANK YOU" to the men and women who work to make our community a better place.
The dedicated workers at our local nursing home facilities provide around the clock care and love to their residents, This is especially important during a time when friends and family were restricted from visit. These staff members filled the gap! To show appreciation to these tireless workers, 185 staff members at the Brookhaven Nursing Facility in Brookville were blessed with a meal to say thank you for loving this community. One employee who greeted the team at the door was completely overwhelmed by this act of kindness and said "this has never happened before! It's good to know that someone really cares! It's been such a difficult time." The team was able to pray with her and assured her that Salem Church does indeed care and appreciate all that they do.
In April, the Salem congregation participated in the 250 Family Challenge! This challenge was a way to stock area food pantries so they could provide food boxes to 250 families in need during the pandemic. Thank you for exceeding this number! With your donations 281 boxes were given to local families.
COMMUNITY TABLE BACK-TO-SCHOOL FAIR
The Community Table is a local partner of Salem Church. On August 9, this organization, with many volunteers from Salem, hosted the Back-to-School Fair. Even within this pandemic, you provided enough supplies and financial donations to help 145 families which included 325 students.
When Northridge schools needed 300 backpacks for their distance learning computers and supplies they called Salem! Within minutes of their call we had all of those backpacks on order! It is because of your generosity that we are able to meet real needs, in real time! Backpacks were purchased and delivered in time for the Northridge distribution day.